Story Time
Join some of our Assemblymembers as they read their favorite children's stories, or cozy up with the family to a good book with some recommended inclusive books for all ages.
---
The Bonta's Read "Good Night Moon" as a COVID-19 Storytime tale
Assemblywoman Cottie Petrie-Norris Reads, "The Gruffalo"
Learn how to make Playdough with Assemblywoman Smith
Speaker Rendon Reads the Classic Story "Corduroy"
Looking for children's books about diversity, inclusion, race, tolerance and kindness? Consider adding some of these books to your reading list.
AGES 3 months - 7 yrs
Belly Breathe
By Leslie Kimmelman and Lindsay Dale-Scott (Illustrator)
Ages 3 months-3 years
This board book shares simple relaxation and calming techniques. These are tools everyone can use, both young and old. This mindfulness book showcases the easy skill that is a great way to teach kids how to manage stress and emotions.
Daddy, Papa and Me
By Leslea Newman and Carol Thompson (Illustrator)
Ages 3 months- 3 years
One of the original board books about gay parents. This board book shows a toddler spending the day with its Daddies. From playing hide-and-seek to dress-up, then bath time and a kiss goodnight, there's no limit to what a loving family can do together. Share the loving bond between same-sex parents and their children.
Strong and Mighty Max
By Kristina Gray
Ages 3 months-7 years
This book explains Achondroplasia, a rare condition affecting 1 in 25,000 births. The children born with this condition have normal intelligence but they have shorter limbs and slightly larger heads than other children. This book teaches children to celebrate that each one of us in unique and different in some way. It encourages people to not focus on outward appearances, but to look at what is inside all of us.
AGES 2 - 5 yrs
Sammy Spider's New Friend
By Sylvia A. Rouss and Katherine Janus Kahn (Illustrator)
Ages 2 - 5 yrs
When an Israeli family moves in next door to the Shapiros, Sammy Spider and Josh learn about the Jewish mitzvah of welcoming guests. Josh Shapiro and his parents immediately set to work preparing homemade food for the new neighbors. Sammy Spider, who watches from above, learns all about the concept of making the new family feel welcome and yearns to be a part of this mitzvah. Despite his mother's refrain that "Spiders don't bake cakes. Spiders spin webs," Sammy takes an active role in making Moti, the boy who has just moved from Israel, smile. In the process, they each make a new friend and learn some Hebrew words.
AGES 3 - 7 yrs
We're Different, We're the Same (Sesame Street)
By Bobbi Kates and Joe Mathieu (Illustrator)
Ages 3 - 7 yrs
A book with a sweet message from Sesame Street. The story teaches us that we may all look different on the outside—but it's important to remember that deep down, we are all very much alike. This colorful and charmingly illustrated book offers an easy, enjoyable way to learn about differences—and what truly matters. It is an engaging read for toddlers and adults alike.
We're Amazing 1, 2, 3!
A Story About Friendship and Autism (Sesame Street). By Leslie Kimmelman and Mary Beth Nelson (Illustrator)
Ages 3 - 7 yrs
We're Amazing 1,2,3! is the first Sesame Street storybook to focus on autism. In this story, Elmo introduces his longtime friend Julia to Abby. Elmo explains that Julia has autism, so she does things a little differently. Julia sometimes avoids direct eye contact, flaps her arms when she's excited, and is sensitive to some noises. But Abby soon learns that she also has a lot of things in common with Julia. All kids want love, friendship, and to have fun!
The World Needs More Purple People
By Kristen Bell, Benjamin Hart and Daniel Wiseman (Illustrator)
Ages 3 - 7 yrs
What is a purple person? Purple people bring their family, friends, and communities together, and they speak up for what's right. They are kind and hardworking, and they love to laugh. A purple person is an everyday superhero! In this hilarious and joyous book, Penny Purple will lead you through the steps on how to become one. The book offer a message about embracing the things that bring us together as humans.
AGES 4 - 8 yrs
Where Are You From?
By Yamile Saied Mendez and Jaime Kim (Illustrator)
Ages 4 - 8 yrs
This picture book tells the story of a girl who is asked constantly where she's from or rather where she's really from. None of her answers seem to be the right one. She turns to her Abuelo for help. He doesn't give her the response she expects, she gets an event better one. This book contains themes of self-acceptance, identity, and home.
All Are Welcome
By Alexandra Penfold and Suzanne Kaufman (Illustrator)
Ages 4 - 8 yrs
This book follows a group of children through a day in their school, where everyone is welcome with open arms. A school where kids in patkas, hijabs, and yarmulkes play side-by-side with friends in baseball caps. A school where students grow and learn from each other's traditions and the whole community gathers to celebrate the Lunar New Year.
Alma and How She Got Her Name
By Juana Martinez-Neal
Ages 4 - 8 yrs
For one little girl, her very long name tells a vibrant story of where she came from — and who she may one day be. Author and illustrator Juana Martinez-Neal opens a treasure box of discovery for children who may be curious about their own name and family history.
Sulwe
By Lupita Nyongo and Vashti Harrison (Illustrator)
Ages 4 - 8 yrs
In this picture book, actress Lupita Nyong'o creates a whimsical and heartwarming story about a young girl, Sulwe. This story hopes to inspire children to see their own unique beauty. Sulwe has skin the color of midnight. She is darker than everyone in her family and in her school. She just wants to be beautiful and bright, like her mother and sister. Then a magical journey in the night sky opens her eyes and changes everything.
Hair Love
By Matthew A. Cherry and Vashti Harrison (Illustrator)
Ages 4 - 8 yrs
Hair Love tells the story about a father and his daughter, Zuri and her beautiful hair. With a message of self-confidence and loving your hair, this story is tender and empowering.
Under My Hijab
By Hena Khan
Ages 4 - 8 yrs
A story about a little girl who sees all the ways the women in her life wear hijab. This book explains the meaning of hijab and its part in the Muslim religion. It shares a positive message about the uniqueness of each woman and girl, and how they celebrate their faith.
Don't Call Me Special: A First Look at Disability
By Pat Thomas and Leslie Harker (Illustrator)
Ages 4 - 8 yrs
This picture book explores questions and concerns about physical disabilities in a simple and reassuring way. Younger children can learn about individual disabilities, special equipment that is available to help the people with different abilities, and how people of all ages can deal with disabilities and live happy and full lives.
Grace for President
By Kelly DiPucchio and LeUyen Pha (Illustrator)
Ages 4 - 8 yrs
When Grace's teacher reveals that the United States has never had a female president, Grace decides she wants to be the nation's first and immediately jumpstarts her political career by running in her school's mock election. The race is tougher than she expected: her popular opponent declares that he's the "best man for the job" and seems to have captured the votes of all of the class's boys. But Grace is more determined than ever. Even if she can't be the best man for the job, she can certainly try to be the best person! This timely story not only gives readers a fun introduction to the American electoral system but also teaches the value of hard work, courage, independent thought—and offers an inspiring example of how to choose our leaders.
I Am Enough
By Grace Byers and Keturah A. Bobo (Illustrator)
Ages 4 - 8 yrs
A beautiful story about loving who you are, respecting others and being kind to one another. An inspiring message with beautiful illustrations of a group of girls of many colors and sizes. This soulful book is a magnificent poem to girls encouraging self-esteem, individuality, respect and kindness. It empowers girls to be themselves and encourages them to realize their endless potential.
Nelson Mandela
By Kadir Nelson
Ages 4 - 8 yrs
In this picture book biography, award-winning author-illustrator Kadir Nelson tells the story of global icon and Nobel Peace Prize winner Nelson Mandela in poignant free verse and glorious illustrations.
It is the story of a young boy's determination to change South Africa, and of the struggles of a man who eventually became the president of his country. Mandela believed in equality for all people, no matter the color of their skin. Readers will be inspired by Mandela's triumph and his lifelong quest to create a more just world.
Just Ask!: Be Different, Be Brave, Be You
By Sonia Sotomayor and Rafael Lopez (Illustrator)
Ages 4 - 8 yrs
In Just Ask, United States Supreme Court Justice Sonia Sotomayor celebrates the different abilities kids (and people of all ages) have. Using her own experience as a child who was diagnosed with diabetes, Justice Sotomayor writes about children with all sorts of challenges—and looks at the special powers those kids have as well. In this book, kids work together to build a community garden, asking questions of each other along the way.
AGES 5 - 10 yrs
The Girl Who Loved Wild Horses
By Paul Goble
Ages 5 - 8 yrs
This book tells the story of a young Native American girl who loved horses. She is devoted to the care of her tribe's horses and leads them to drink at the river. Only she was able to understand horses in a special way.
Thank You Mr. Falker
By Patricia Polacco
Ages 5 - 8 yrs
The real life story of a dyslexic girl, Trisha and her teacher, Mr. Falker who would not let her fail. When she looked at words on a page, all she could she was jumbled words. The little girl grows up to become one of America's most popular children's book creators.
Ho'onani: Hula Warrior
By Heather Gale
Ages 5 - 10 yrs
An empowering story of identity, acceptance and Hawaiian culture based on the true story of a young girl in Hawaii who dreams of leading the boys only hula troupe at her school. Ho'onani: Hula Warrior is a celebration of Hawaiian culture and an empowering story of a girl who learns to lead and learns to accept who she really is—and in doing so gains the respect of all those around her.
Tallchief: America's Prima Ballerina
By Maria Tallchief, Rosemary Wells and Gary Kelley (Illustrator)
Ages 5 - 10 yrs
Maria Tallchief was America's first major prima ballerina and also the first Native American prima ballerina. She was born in Oklahoma in 1925. She grew up on the Osage Indian reservation and was a gifted pianist and dancer. When Maria reached the age of twelve, her father told her it was time to choose between her two loves. Maria chose ballet. It was a decision that would change not only the course of her life, but the face of classical ballet in America.
Mindy Kim and the Lunar New Year Parade
By Lyla Lee, Dung Ho (Illustrator)
Ages 6 - 8 yrs
A chapter book that tells the story of a young girl, Mindy Kim, who is excited to celebrate the Lunar New Year. This will be the first one without her mom. She is determined to enjoy the day and she decides to make traditional Korean New Year food. But things aren't going quite as planned, and the celebration doesn't feel the same as it did before. With the help of her family and friends, can Mindy find a way to still enjoy her old holiday traditions, and create new ones along the way?
Let the Children March
By Monica-Clark Robinson
Ages 6 - 9 yrs
In picture book format, the book focuses on a monumental moment in the civil rights movement: the Children's Crusade of 1963. Thousands of African-American children and teens marched through the streets of Birmingham, Alabama, to end segregation and to inspire change and hope for the future.
As Good As Anybody
By Richard Michelson and Raul Colon (Illustrator)
Ages 6 - 9 yrs
This is the story of two social justice icons, how they formed a remarkable friendship and turned their personal experiences of discrimination into a message of love and equality for all. This incredibly moving and empowering book delivers the story of two men, Martin Luther King Jr. and rabbi Abraham Joshua from different cultures, an African-American Baptist minister and a Polish-born rabbi. Their lives aligned and came together for the cause of freedom and civil rights. Their names stand for the quest for justice and equality. Although the two men grew up in different parts of the world, they both came from loving families that wished for a world full of peace.
AGES 7 - 12 yrs
Journey for Justice: The Life of Larry Itliong
By Dr. Dawn B. Mabalon, Gayle Romasanta and Andre Sibiyan (Illustrator)
Ages 7 - 12 yrs
This history book for children tells the story of labor leader and co-founder of the United Farm Workers Larry Itliong's lifelong fight for a farmworkers union, and the birth of one of the most significant American social movements of all time, the farmworker's struggle, and its most enduring union, the United Farm Workers. This is the first book written about Larry Itliong.
What Was Stonewall?
By Nico Medina and Jake Murray (Illustrator)
Ages 8 - 12 yrs
This chapter book tells the history of what occurred on the morning of June 28, 1969 in New York City when members of the LGBTQ community turned a moment into a civil rights movement and launched the fight for equality among LGBTQ people in the United States.
The Legend of Africania
By Dorothy Robinson
Ages 8 - 12 yrs
A very special picture book that was first published in 1974. It tells the story of an evil spirit that arrives in Africa and abducts Africania. She is the beautiful daughter of the Sun and the Earth. The evil spirit forces her into slavery for hundreds of years, making her turn natural resources into gold for him. She is finally saved by Prince Uhuru and she and all the slaves, who were abducted from all parts of the world, are freed.
Nelson Mandela's Favorite African Folktales
By Nelson Mandela
Ages 8 - 12 yrs
A cause for celebration, and a landmark work that gathers in one volume many of Africa's most cherished folktales. Nelson Mandela selected these beloved thirty-two tales with the specific hope that Africa's oldest stories, as well as a few new ones, be perpetuated by future generations and be appreciated by children throughout the world. Most the stories were first told in various African tongues around evening fires in centuries past and many of the tales are almost as old as Africa itself.
Esperanza Rising
By Pam Munoz Ryan
Ages 8 - 12 yrs
Growing up a privileged life on her family's ranch in Mexico, Esperanza thought she would always have fancy dresses, a beautiful home and Mama, Papa, and Abuelita to care for her. A sudden tragedy forces Esperanza and Mama to flee to California and settle in a Mexican farm labor camp. Esperanza isn't ready for the hard work and financial struggles brought on by the Great Depression. This book shows the Mexican workers' plight and gives voice to those who have historically been denied one.
Little Leaders: Bold Women in Black History
By Vashti Harrison
Ages 8 - 12 yrs
Bold Women in Black History is about 18 trailblazing women in American history. In this book the you will learn about heroes, everyday women that did extraordinary things, and role models. Women whose actions and beliefs contributed to making the world better for generations of girls and women to come.
AGES 13 - 18 yrs
The Best We Could Do
By Thi Bui
Ages 13 - 18 yrs
This graphic novel tells the story of one family's journey from war-torn Vietnam and about the search for a better future and a longing for the past. This book explores the anguish of immigration and the lasting effects that displacement has on a child and her family. Bui documents the story of her family's daring escape after the fall of South Vietnam in the 1970s, and the difficulties they faced building new lives for themselves.
Symptoms of Being Human
By Jeff Garvin
Ages 14 - 17 yrs
The powerful and uplifting story about a modern teen struggling with high school, relationships, and what it means to be a person. Riley Cavanaugh is many things: Punk rock. Snarky. Rebellious. And gender fluid. Some days Riley identifies as a boy, and others as a girl. But Riley isn't exactly out yet. And between starting a new school and having a father running for reelection in Orange County, the pressure—media and otherwise—is building up in Riley's life.
---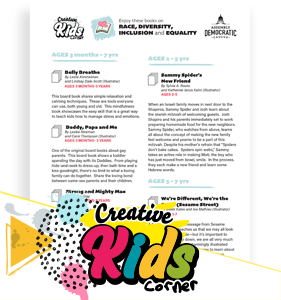 Click the image above to download the list.
Trinka and Sam Fighting the Big Virus: Trinka, Sam, and Littletown Work Together
Helps young children and families talk about their experiences and feelings related to COVID-19 and the need to shelter in place. In the story, the coronavirus has spread to Littletown causing changes in everyone's lives. The story opens doors to conversations about COVID-19, ways that families and communities are working together to keep safe from the virus, family and community strengths, common challenges and reactions in children and adults, ways that families support children and each other, and our intense gratitude for frontline workers. A caregiver guide is available in the back of the book that provides ways parents can use the story with their children. A companion story, Fighting the Big Virus: Trinka's and Sam's Questions, for how to answer children's questions about the virus is also available.
Fighting the Big Virus: Trinka's and Sam's Questions
Provides questions that Trinka and Sam have about the big virus and ways to answer those questions. This companion story includes common questions that children may have about COVID-19. The pages from this companion story can be read as individual pages or you can include the pages into the Trinka and Sam Fighting the Big Virus: Trinka, Sam, and Littletown Work Together book. You can limit which questions to use with your children, as children may have questions about some things regarding the virus and others may not be appropriate for their experience.