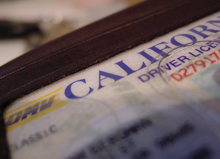 More information on REAL ID is available on the DMV website.
REAL ID FAQs
Q. What is the REAL ID?
A. The California REAL ID is a driver license or ID card issued by the state Department of Motor Vehicles that meets new federal identification standards established by Congress in the wake of the Sept. 11, 2001, terrorist attacks.
Q. Do I need to get a REAL ID?
A. No, neither the state nor federal government requires that you have a REAL ID.
Q. Then why would I get a REAL ID?
A. The federal government will begin requiring stricter identification standards to board a commercial flight or to enter a federal facility, including courthouses and military bases, as well as nuclear plants. The REAL ID will be sufficient to board a plane or enter facilities where the public is required to show ID. To fly, those without a REAL ID will be required to show another form of identification, such as a passport, Department of Defense ID or one of a dozen other IDs listed on the U.S. Transportation Security Administration's website. Military bases require two forms of identification if you do not have a REAL ID.
Q. If I can fly with my passport, why do I need a REAL ID?
A. It is mostly a matter of convenience. Most Americans are not accustomed to carrying their passports unless they are planning to leave the country. You would have to remember to bring it with you to visit a federal facility as well.
Q. When will the new identification requirements go into effect?
A. For commercial air travel, the REAL ID, a passport or other approved ID will be required to board a flight starting May 7, 2025.
Q. Do I need to get a REAL ID card right away?
A. No. Valid California driver license/ID cards will be accepted by TSA to board a domestic flight and by federal agents to enter secure federal facilities until May 7, 2025. Additionally, if you have a valid U.S. Passport or U.S. Passport card, military ID, or other federally approved identification, you may continue to use this as your form of identification after May 7, 2025, for federal purposes.
NOTE: Check with the federal facility/military base before you visit to verify their identification requirements.
Q. What documents do I need to get a REAL ID?
A. To apply for a REAL ID driver license or identification card, you need to provide:
Proof of identity such as an original or certified copy of a U.S. birth certificate, U.S. Passport, employment authorization, permanent resident card, or foreign passport with an approved form 1-94.
Proof of Social Security Number such as an SSN card, W-2, or paystub with full SSN.
California residency document such as a utility bill, rental agreement, mortgage bill, or medical document.
If your identity document is in a different name, you will need to provide a name change document such as a marriage license, divorce decree or court document.
Q. Does a REAL ID cost extra?
A. The fees for a REAL ID card are the same as those currently charged for a driver license or ID card.
Q. Does a REAL ID look different from a driver's license?
A. No, except a REAL ID will have a gold star in the upper right-hand corner. A driver' s license that does not meet the new federal identification standards will contain the words: "Not for Federal Identification."